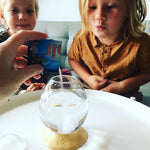 Jurassic Tiktok Challenge: Aqua Dragons Eggspress
Grow your own Jurassic pets this summer! 🦖 

The dinosaurs are back with a big bang! Hatch and grow your own live Jurassic pets this summer holiday! 🥚 🐣🦖 It's the perfect science project and educational activity for school holidays. 

Aqua Dragons have been on Earth since the Dinosaurs roamed! Get your very own Dino egg tank 🥚 and raise a generation of little prehistoric time travellers - they're alive! 

Aqua Dragons Eggspress is the perfect egg-shaped tank to hatch and grow your Jurassic pets. Available here and on Amazon here and in toy shops like Drim, Eurekakids and Juguetilandia. 
This summer we have a very special Tiktok Challenge!
The #aquadragonseggspress Jurassic Challenge is going to be rrrroar-some!
Prizes
1x 500€ for the Video with the most likes
2x 100€ for the second video with the most likes
50 x limited edition Jurassic Eggspress Giant Jurassic Tanks for our favourite Jurassic-themed videos

What do I have to do? 
Make Tiktok videos! Show us how you hatch and grow your jurassic Aqua Dragons. Unboxing of the Jurassic Aqua Dragons, assembly and updates. 
Include the hashtag #aquadragonseggspress
Tag @aquadragonshq
Competition ends 31 August 2022
Winners announced on 1 September 2022
Tiktok Challenge Video