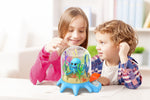 Exciting news - Launching the Sea Friends range!
Exciting news everybody. After another year's success and labor of love, this summer we are launching a whole new fun and colourful range of Aqua Dragons called "Sea Friends". This range brings to life the characters and habitats from the Aqua Dragons Sea Friends book and the three deluxe tanks are twice the size of a normal Aqua Dragons tank, and have twice the eggs as well! All the kits include everything you need to set up and care for your tiny Aqua Dragon pets.
The Aqua Dragons are from the crustacean family, a species called Artemia Salina. They have been living in salt lakes and seas on Earth since prehistoric times. Aqua Dragons eggs have a natural ability to dry out and survive droughts, waiting to come in contact with water to hatch, this special ability to hibernate is called "diapose". In the following 45 days after hatching, these small beings can grow up to 1cm long. Love your Aqua Dragons and they will grow big and strong!
And there is something extra special about the Sea Friends range. We've made an Aqua Dragons app to accompany them, so you can download it for free, hatch and grow your own virtual Aqua Dragons! Get it on the appstore and google play now!
To celebrate the launch, for a limited time, we are offering free shipping for orders from our website to Spanish consumers (the country where our head office is). See the TV ad online below or see the Sea Friends items in our webstore here.


English:
Spanish: