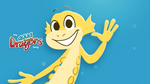 Here's our new @aquadragonshq song and animation. Let's sing along!
Get ready for a unique and educational experience with Aqua Dragons! These live aquatic creatures hatch and grow right before your eyes, making them perfect for curious kids. The easy-to-care-for Aqua Dragons come in a complete kit, including eggs, food and instructions.
Celebrating 10 years of Aqua Dragons, over 500 million views in YouTube and social media, +5 million kits sold, four prestigious toy awards, one trip to space and here's to a lifetime of Artemia Salina aquatic pet love!
Animated by @dakotasheperd with Lyrics and Song by @hopscotch