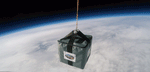 Aqua Dragons return from Space to become the world's first live pets you can hatch and grow from out-of-this-world!
Our successful kickstarter Campaign has lead to launch of Aqua Dragons into space!
Aqua Dragons in Space Kickstarter campaign sends 13.8M eggs Into near Space & packaged as Live Astro Pets For Kids
BARCELONA (18-04-2017) – On April 17, 13.8 million Aqua Dragons, or Artemia, eggs were launched into Space from Mequinenza in Aragon, Spain.  The total Space flight lasted 3 hours and 32 minutes.  This launch comes on the success of World Alive's recent Kickstarter campaign to raise $50,000 for the launch, record video footage of the flight and then package these Space eggs into a new range of Aqua Dragons kits known as Aqua Dragons Live Astro Pets.
See the video with incredible footage in space here:
"We are very pleased with the successful Kickstarter and launch of Aqua Dragons into Space," says Amy Holden, founder, product innovator and developer of Aqua Dragons. "Our goal was to create something fun and educational for kids and their parents and I believe we have done that."
World Alive's Aqua Dragons is an educational science kit that contains live aquatic pets that kids can bring to life and watch grow. Aqua Dragons are a unique kind of crustacean called Artemia, that have a biological process called Diapause that allows them to hibernate, hatching once in contact with water.
Five years ago, Holden and her partners launched a successful range of hatch-and-grow Aqua Dragons kits with the goal of providing curious-minded people and animal lovers everywhere with their own unique pets. Hatching and growing Aqua Dragons helps children learn important values like caring for a living creature and being responsible as it pertains to feeding, as well as how to treat live animals with respect instead of as a science experiment. Kids will also learn about science, anatomy, biology, marine biology and even history and geography through playtime with their Aqua Dragons.
As a result of the most recent mission, the eggs reached an altitude of 33.2 km or 109,560 feet and a low temperature of -590 Celsius.  All Live Astro Pets also come with a Certificate of Authenticity for their flight mission. 
The full line of Aqua Dragons in Space will be available at retail starting July 2017. Consumers can pre-order now on the Aqua Dragons website:  www.aquadragons.net then click on shop.
The team at Aqua Dragons would like to send a special and heartfelt thanks to the supporters of this project on kickstarter, making this exciting project possible.