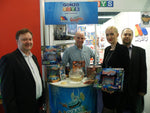 The family grows! Aqua Dragons launch in Poland with partner Gonzo toys and a TVC.
Aqua Dragons continue to expand, and will be widely available in Poland through Gonzo Toys who have recently launched the brand at the national Polish Toyfair just last month (March 2017). As part of the launch Gonzo have localized the Aqua Dragons TV add into Polish which will be airing on tv from April 2017 onwards:
Gonzo toys company deals is a small but fast growing distributor that distributes European made brands and is a young company, operating since 2013. Since its inception, the company's strategy has been to distribute the highest quality branded toys to the national market.
Gonzo also exclusively distribute Spanish brands: Molto, Chicco and now us, World Alive!
The expert team consists of 4 persons: Mr. Adam Szurek (owner), Mrs. Anna Wittig (Managing Director) and two Regional Sales Managers: Dariusz Drewnowski and Marcin Gacewicz. Gonzo are a young, dynamic resourceful and resilient company, that are growing fast. They work with the major retailers, regional wholesalers and online resellers.
Welcome to the team, we are very much looking forward to working with you so that Polish kids and animal lovers everywhere can get a tank of Aqua Dragons!