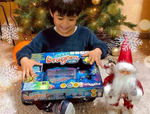 Getting Aqua Dragons as a Christmas Gift
With Christmas just around the corner, it's time to start thinking about a fun, original, exciting gift to engage the kids, while hopefully also teaching them something educational.
As we know, STEM toys make fantastic gifts for children and Aqua Dragons are one of the most popular STEM toys of the moment. Let's take a look at why Aqua Dragons make great Christmas presents and why your child will absolutely love them!
They come with everything you need to get started
Your Aqua Dragons come fully kitted out to get them hatching. Everything from the aquarium and the Aqua Dragon eggs to the food and the feeding spoon is included.

Your Aqua Dragon box also comes with full instructions, for advice and recommendations on how to get started and how best to take care of Aqua Dragons.
Set up is easy
Getting the Aqua Dragon environment ready so that your little guys can hatch is super simple. First, if needed, you need to add batteries to the tank so that you can turn on the light and fill the tank with the right amount of bottled water.
Next come the eggs, added to the water and you have to wait for at least 24 hours before you can see anything. Then once your Dragons have hatched, usually on day two, you'll give them some of the food provided, not too much, little Aqua Dragons don't need a lot. All you need to do at this stage is make sure the aquarium is kept at a warm room temperature, to give them the best chance to grow.
After a few days, the magic happens!
This is the stage where things get exciting. Your Aqua Dragons will begin to grow – in fact, you should be able to spot some swimmers with the help of a magnifying glass. All that swimming around is going to give your little fellas an appetite – they'll need feeding every 2-3 days. If the aquarium has a murky green colour, there's still food in there. So, hold out and feed them when the water is clear.

@giovanni_cardona
Watch and learn!
As the Aqua Dragons grow, they become more and more captivating! My children love watching them play and grow – it's such a fascinating process and really captures the imagination. It also teaches them just the right amount of responsibility, as well as opening their minds to life cycles, ecosystems and caring for a pet. 
Where to buy Aqua Dragons
You can buy Aqua Dragons directly through the AquaDragons.net shop. If you're in Europe, you can also order them through Amazon.es.
While we cannot dispatch Aqua Dragons to countries outside of Europe at the moment, they are available through other retailers around the world.
Check our list of Where to buy Aqua Dragons on our website for a list of sellers in the UK & Ireland, the US, and Australia & New Zealand.
Enjoy Aqua Dragons this Christmas! Share your experiences on social media, tag @aquadragonshq
Main photo credit @dianaalexandra_2108