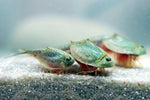 Seizure of Triops kits from toy stores
This week (20 December 2016) there has been a significant amount of press about Triops products being seized from European toy stores, this has been reported on TV and in the major newspapers in Spain where the seizures have occurred but press has echoed the story across Europe and as far away as Russia.
We've started to receive contact from concerned retailers and consumers so we are posting this notice with regards to the issue.
Triops (

Triops longicaudatus) 

are a freshwater meat eating crustacean, which means they can propagate in rivers, lakes, reservoirs etc and damage or disrupt the ecosystem by eating other live animals. No products of any World Alive or Aqua Dragons items has the eggs of these creatures. The EU considers the Triop an invasive species which is dangerous for the environment and the Spanish Nature Protection Service (SEPRONA Servicio de protección de la Naturaleza) has seized the Triops products from stores.
Aqua Dragons, (Artemia Salina), are a salt-water crustacea, which means they cannot propagate in freshwater systems. They already exist in salt-water habitats and they cannot disrupt the ecosystem as they do not eat other live animals, they eat marine extracts like algae or bacterias instead. All World Alive hatch and grow kits are made with Artemia salina eggs. Our brands are Aqua Dragons with range names; Aqua Dragons Underwater World, Aqua Dragons Sea Friends, Aqua Dragons Jurassic Time Travel or Aqua Dragons in Space. We also produce for third party brands for some of our exclusive retail partners. These brands are Monstres Marins, Kit de Artemia (France), Aqua Aliens (USA). All these products also use the Artemia Salina eggs which are safe for the environment.

The EU declared that Artemia salina, which is the scientific name for the Aqua Dragons, is not an invasive species and of no danger to health or the environment. Furthermore all Aqua Dragons or Artemia Salina we have sold have all been correctly certified and inspected by a Government Veterinary inspector. Therefore there is no moral, ethical or legal issue with buying, selling or hatching you own live Aqua Dragons.
See the below link to the press report about the Triops Seizures in English  or see several of the various articles published at the below links to the seizure report in Spanish newspapers (in Spanish) click on the links below: