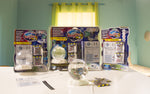 Aqua Dragon's back from Space - The Final Fun-tier!
Over the past few months we have been working on a very exciting global Space project for the toy industry. Aqua Dragons Live Astro Pets project began in March with a Kickstarter campaign in efforts to raise $50,000 to send a payload of artemia salina or Aqua Dragons into space. Our campaign involved seeking supporters to help us fund the space flight for these fun and educational science kits for children. We're proud to report that we surpassed our goal and were able to move onto the next phase of the project. We would also like to take this time and thank all of our supporters for joining us on this out-of-this-world adventure.

Now for the exciting part of the project! The following month, we engineered and designed our coordinates for our space launch. After a few test flights and final tweaking, it was time for blast off.  On April 17, 2017, we sent 13.8 million Aqua Dragons, or Artemia eggs into Space from Mequinenza in Aragon, Spain. The total Space flight lasted 3 hours and 32 minutes.  As a result, the eggs reached an altitude of 109,560 feet and a low temperature of -59 Celsius. If you would like to see the space flight, please click here. I'm happy to report that the mission was a success  and all of our passengers (Aqua Dragons) arrived safely back to earth and are now ready to be sent on to happy and loving homes in the form of our Aqua Dragons Live Astro Pets. These very special collector's edition of pets will soon be available for purchase around the world. Our kits are guaranteed by the authenticity certificate inside, stating that Aqua Dragons Live Astro Pets are the world's only pets which have actually been into space. Children will be able to see their space flight data and 360º flight video, either in our free Aqua Dragons app, or directly online on YouTube.

Also to aid our mission communication plan, we have created new television promos for several global markets. Click here to view. In addition, we are also looking for new distributors to help us find our Live Astro pets new homes. If you are interested in helping and becoming one of the first to deliver, please click here for more information.


In closing, we're excited to tell you about the media buzz that our Aqua Dragons Live Astro Pets received before, during and after their mission was complete. Our Live Astro Pets were featured in toy trade magazines, online blogs, toy industry sites and television for over 26 million total impressions. Some highlights include: Space.com, The Toy Book, Inquisitr, The Toy Insider as well on WDIV NBC Detroit TV. Not bad for a first flight .




Thank you for taking the time to read our news. We are already in the planning stages of our next flight for later this year with our next recruits. If you would like to track our additional progress or view our history please click here. Until next time, to infinity and beyond!