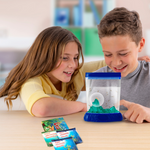 Aqua Dragons Colour Changing Aquarium
The Aqua Dragons Colour Changing Aquarium has a special colour changing ice mountain that lets you know when the water temperature is just right. The built-in magnifier gives you a closer look and the deluxe tank has LED illumination to bring your Aqua Dragons to life at night.
Aqua Dragons are real live aquatic creatures you can hatch and grow at home: just add water. Your hatchlings will be microscopic at first, but within a week you should be able to see them.
Aqua Dragons look like 3-eyed, long tailed, hairy headed dragons, and can grow up to 1.5cm long. Their scientific name is Artemia Salinas, from the crustacean family – and they have been living in the sea and salty lakes for millions of years. Learn about their life cycle and anatomy as they hatch, grow through the naupuli stage to adults, eat, play and reproduce.
You can buy our Colour Changing Aquarium on aquadragons.net here and on Amazon here and in all good toy stores. 
Join the trend #colourchangingaquarium