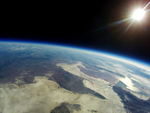 Aqua Dragons in Space STEM project successfully raises $53,113 on Kickstarter to create the world's first Astro Pets
It's 6.40 am now, and I'm up early as just 20 minutes ago our Kickstarter campaign finalized with a whopping total of USD $53,113 in backing! Yiippeee, group hug and high five everyone, we did it together!
What is the project all about? We raised funds to create a fun STEM project so people could get involved beforehand and share in the excitement and fun of our Mission Alpha Space flight to send 2 Kilos / 13.8 million Aqua Dragon eggs into near space and back.
The flight is done with a high altitude balloon that takes off with GPS and AV tracking and goes up to 40 km into space, which is four times as high as planes fly. After the eggs come back down our limited edition of Aqua Dragons in Space "Astro Pets" will be packaged and get an original signed authenticity certificate that their eggs are real space travellers with the date, launch and landing locations, altitude and temperature the capsule was subject to in space.
Once produced we then ship them to our backers and the range will be made widely available via our network of distributors worldwide, and to the public via our website  where you can still pre-order right now.
The coolest part is that the 360ºvideo will be available for everyone to see in our app and on our youtube channel from April 2017. Want to learn more about the Space flight? Check out this simple animation that explains how it works or see our space project page for a more in depth explanation.
Cool huh? Did you know in near space it can get to -60ºC? For that reason we had to insulate the Space capsule to make sure our eggs don't get too cold.
There was quite a bit of media coverage of the campaign, which you can see here at a selection of the links:
During 2017 we will be working with schools in the Uk and Australia to carry out a space capsule design competitions and launches. If you want to join in, get involved contact amy@world-alive.net
The countdown to the launch has started!
[powr-countdown-timer id=7d994e5b_1489822907]
Stay tuned to the progress online at www.aquadragons.net or via following us on social media!
to infinity and beyond!
Amy