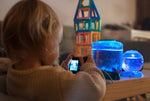 Chances are, you've heard of STEM learning. If you haven't, where have you been?!
Don't worry, you're in the right place now. We're here to walk you through one of the most essential concepts in modern learning. 
The best part? STEM is all about learning while having fun! So, let's find out why STEM is so important for young learners today and why kids really can't get enough.
What does STEM mean?
The term STEM is short for science, technology, engineering and maths. 
What are STEM Toys?
They are toys that are focused on educating kids, in a fun and playful way. These can be science based, like Aqua Dragons; technology based, like Stomp Rockets; engineering based like Lego or Meccano kits; or maths based, like coding robots.
As technology improves and toy makers get ever more inventive, the range of ingenious and downright fun STEM toys on the market gets larger by the day.
Why are STEM toys important?
Here are some of the reasons why STEM toys are an essential part of 'learning by play' for modern children.
They are fun – which makes learning easier
STEM toys are a great way to reinforce the importance of learning in a fun way. They stimulate curiosity and creativity, while developing a child's ability to solve problems.
The best part? Kids don't even realise they're learning! When educational toys are so much fun, the learning comes naturally. And kids learn quicker and deeper when they're having fun. 
Studies have shown that when young children are educated in a rigid way, they become disenchanted with learning. STEM toys are the remedy to these outdated methods, instilling a love of learning from a young age. 
They encourage critical thinking and teamwork
Getting hands-on experience with STEM toys allows children to engage with new ideas and concepts, while encouraging them to think critically – often for the first time. As well as developing this really important attribute, kids are also empowered to use their own initiative, and imagination. 
With STEM gifts like Aqua Dragons, two heads are better than one! Kids get the chance to work together and develop those all-important teamwork skills.   
They teach children to take responsibility
It's not all about pure fun, though. STEM toys are an excellent way to teach children about responsibility. A STEM toy like Aqua Dragons puts children in charge of caring for a real live creature. It's a great gateway to other pets further down the line and gets them interested in animal life cycles and ecosystems, as well as the realities of having a pet. 
They inspire children
Finally, STEM toys can kick start a kid's interest in a certain area. Every child has that inner passion, that potential that hasn't yet been unlocked. All it takes is one 'aha!' moment to set them down a path of discovery.
Our top 5 favourite STEM toys for Christmas 2021
Aqua Dragons are real pets! Just add water and hatch your own aquatic pets that can grow up to 1.5 cm. The whole family will learn and enjoy taking care of your pets. An educational gift to learn the life cycle of animals. The eggs in this Kit have really traveled to Space!
GraviTrax is a marble track of the future, designed for boys and girls ages 8 and up. It's a building STEM game that guarantees hours of pure fun alone, with friends or with family. With the GraviTrax Starter Set you can build an exciting world of tracks, assembling its more than 100 components, including accessories, rails, vertical height modules and base boards
The Starter Pack includes all the 
necessary tools to inspire 
children's imaginations while also 
learning the basics of programming. 
Whatever the idea, the 
little robot can do it.
Yoto Player is a carefully connected speaker. Made for kids, controlled with physical cards and playing only the audio content you want them to listen to. No Camera. No Microphone. No Ads 
Designed for little kids with big imaginations Magna Tiles magnetic blocks encourage free play and reduce screen time while encouraging interest in STEM learning.
A great STEM gift can be the catalyst to something special and have a real impact on a child's future. So, get your child a range of STEM gifts and give them the space to play, learn and discover. 
Because discovering a passion is a gift in itself… a gift that lasts a lifetime.