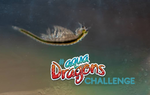 Join The Aqua Dragons Challenge!
Today we're launching the #AquaDragonsChallenge – make your Aqua Dragons famous and win!
Aqua Dragons are fascinating creatures – they grow and change through their life cycle and many Aqua Dragons owners contact us with videos of the funny things their Aqua Dragons do.
That gave us an idea: Why not have a competition to see whose Aqua Dragons are the most entertaining, and which Aqua Dragons owners can make the coolest videos to show off the talent of their pets?
Welcome to the Aqua Dragons Challenge! Starting today, we're looking for the funniest, most creative and most engaging videos you can make – inspired by your Aqua Dragons. Three lucky winners will get a prize of €1000 Euros each!
How does it work?
It's easy! Just make a cool video of your Aqua Dragons and get creative. Follow @AquaDragonsHQ on Instagram or TikTok and post your video there with the hashtag #AquaDragonsChallenge and don't forget to tag us @AquaDragonsHQ
We'll be looking out for all the amazing and inventive videos you can come up with and sharing them on our channels – your Aqua Dragons could be famous! 🤩
Check out full details of the #AquaDragonsChallenge here.
How will you know if you've won?
The challenge will run till 28 February 2021, then we'll choose the three winners. Each winner gets €1000 – imagine what you could buy with that!
The three categories are the funniest, most creative and most engaging videos. The winners for the funniest and most creative videos will be chosen by our judging panel, and the winner most engaging video will be chosen on the basis of the number of likes it receives on Intstagram or TikTok.
We'll contact the winners in March – don't forget to follow us @AquaDragonsHQ so that we can contact you if you win!
What makes a great video?
We want to see your creativity and video editing skills – your Aqua Dragons provide the inspiration and you do the rest. Be original and inventive!
We're looking forward to seeing what you can come up with! 😀🎥
Join the #AquaDragonsChallenge!